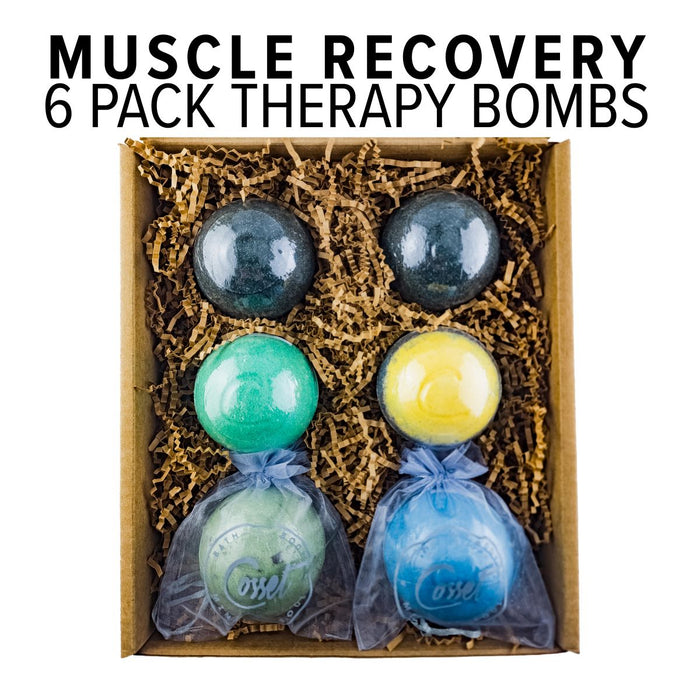 Muscle Recovery Therapy Bomb 6-Pack (Bath Bombs for Sore and Tired Muscles)
Original price
$ 42.00
-
Original price
$ 42.00
Prepare for the ultimate path to Muscle Recovery with this bath bomb collection specifically curated to soothe tired muscles and provide a moment of blissful relaxation.
Inside our Muscle Recovery Therapy Bomb Variety 6-Pack, you'll discover a selection of our most coveted therapy bombs: Apocalypse, Breathe, Oasis, Seaweed, and Sting. Each one is thoughtfully formulated with a unique blend of essential oils and natural ingredients, specially chosen for their rejuvenating and calming properties. Whether you've just completed an intense workout, spent a long day on your feet, or simply desire a moment of deep relaxation, this carefully crafted pack is here to cocoon you in its soothing embrace. Let the therapeutic properties of these carefully crafted blends work their magic, easing soreness and promoting a sense of total well-being.
As a special bonus, we've included an Organza Bath Bag in this pack, allowing you to easily infuse your bathwater with the therapeutic goodness of our therapy bombs. Simply place your chosen bomb inside the bag, let it delicately release its benefits, and watch as your bath transforms into a sanctuary of muscle recovery and self-care. Because we understand the importance of quality and purity, our therapy bombs are made with love and care, using only the finest natural ingredients.
We are proud to say that they are cruelty-free and free from any harmful additives, ensuring that your experience with Cosset is one of pure comfort and indulgence. So go ahead, treat yourself or a loved one to the gift of muscle recovery and relaxation. With this bath bomb 6-Pack, you're not only investing in the ultimate self-care experience, but also embracing a lifestyle that values and nurtures your well-being. Sit back, relax, and let the power of Cosset whisk you away to a place of true tranquility.
Ingredients: Sodium Chloride (Solar Great Salt Lake Salt), Sodium Bicarbonate, Citric Acid, High Oleic Safflower Oil, Proprietary Essential Oil Blend.