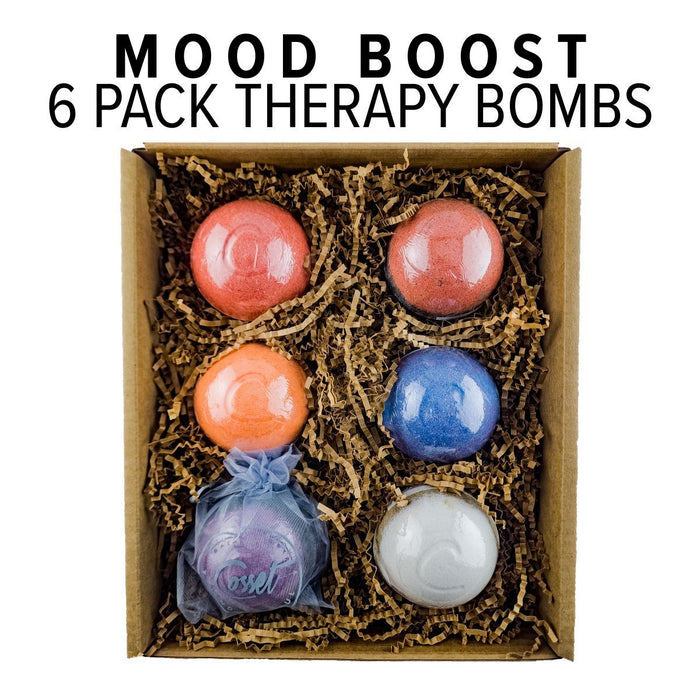 Mood Boost Therapy Bomb 6-Pack (Bath Bombs to Improve Your Mood)
Original price
$ 42.00
-
Original price
$ 42.00
Welcome to your ultimate mood-boosting experience with our Mood Boost Therapy Bomb Variety 6-Pack, a bath bomb collection specifically designed to uplift your spirits and envelop you in a world of positive energy.
Inside this thoughtfully curated pack, you'll discover a symphony of scents and colors, carefully crafted to enhance your mood and bring a smile to your face. Each therapy bomb has been infused with its own unique blend of essential oils and natural ingredients, chosen for their ability to create an uplifting and joyful atmosphere.
Feel the vibrant exotic vibes of Hibiscus Passion as it unleashes a burst of tropical bliss. Some Like It Hot will awaken your senses with its invigorating heat, infusing your bath with a fiery passion that will leave you feeling energized and ready to conquer the day. Surrender to the sweet caresses of Sweet Kisses, enveloping yourself in a cloud of love and warmth. Embrace the calming tranquility of Moody Blues, transporting yourself to a serene oasis of inner peace and harmony. Let the enchanting Yennefer take you on a journey of self-discovery and empowerment, inspiring you to embrace your true inner strength. Finally, lose yourself in the dreamy allure of Tahitian Vanilla, a scent that evokes comfort, warmth, and pure indulgence.
To make your experience even more blissful, we've included an Organza Bath Bag in this pack. Simply place your chosen therapy bomb inside the bag, allowing its fragrance and botanical goodness to infuse your bathwater with sheer delight. As the therapy bomb dissolves, watch as your worries dissolve with it, leaving you feeling uplifted and refreshed.
So go ahead and treat yourself, or surprise a loved one, with our Mood Boost Therapy Bomb Variety 6-Pack. Because we believe that everyone deserves to feel joy and positivity in their lives. Let each therapy bomb infuse your bath with its unique energy and let yourself be carried away on waves of sheer happiness and bliss. In a world that can sometimes be overwhelming, we're here to remind you that you deserve to feel truly cosseted and that a little dose of mood-boosting self-care can go a long way.
Ingredients: Sodium Chloride (Solar Great Salt Lake Salt), Sodium Bicarbonate, Citric Acid, High Oleic Safflower Oil, Proprietary Essential Oil Blend. May contain Milk Protein or Mood Ring.