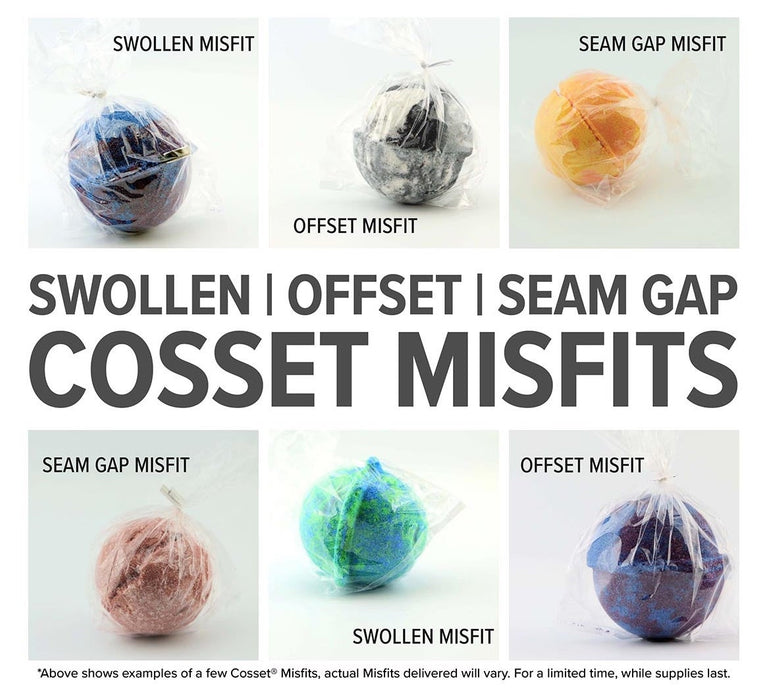 Misfit Clearance Box - 11ct Therapy Bomb Box
Original price
$ 77.00
-
Original price
$ 77.00
While we wish that all Therapy Bombs could come out perfect, the truth is they don't. That said, they're still just as therapeutic as the "good" ones and therefore perfect for your bathtub! This Misfit Clearance Box contains 11 Misfit Bath Bombs chosen at random and one Bath Bag. Misfits will be broken in half, misshaped, or have other cosmetic defects. If a Misfit has been broken it will be shipped in a bag in the box. Limited to stock on hand so this box may contain multiples of the same variant. As all of our mothers would say "You get what you get, and you don't throw a fit". Thanks for being a part of our Cosset Family!
BATH BAG: Use this to contain botanicals, toys, Moody's mood ring OR drop in a bubble bomb and tie it on the faucet for MAXIMUM BUBBLES! Plus, they're reusable; turn inside out, rinse and dry for next use.
*The images provided are examples; actual misfits will vary.