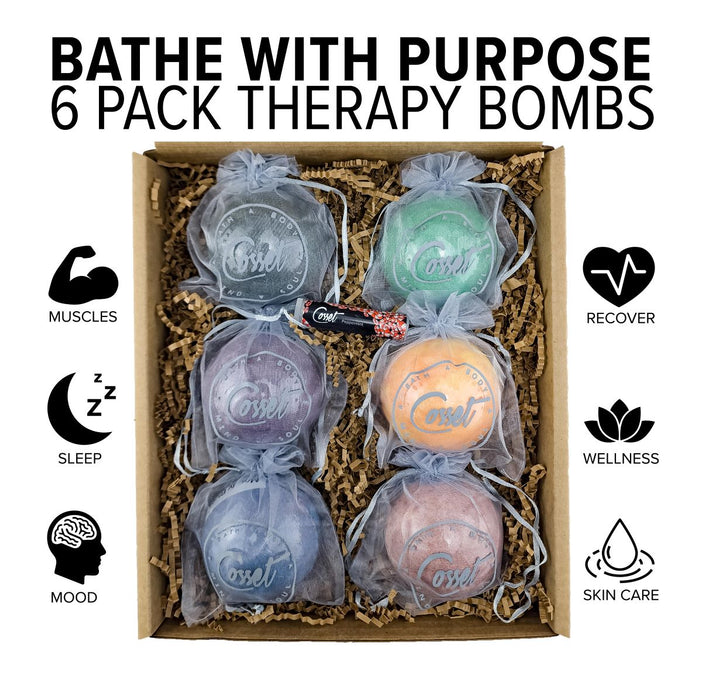 Bathe With Purpose Therapy Bomb 6-Pack (Intro to Therapeutic Bath Bombs)
Original price
$ 50.00
-
Original price
$ 50.00
You're in for a treat with this delightful set of six handcrafted Therapy Bombs, each with its unique blend of essential oils that will elevate your bath time to unparalleled heights of pure bliss. With the Bathe With Purpose set, you'll get to try the Apocalypse, Bedtime, Moody Blues, Breathe, Sunrise, and Rosie Therapy Bombs, each enclosed in an Organza Bath Bag.
These bath bombs are carefully crafted to provide you with an indulgent experience that leaves you feeling revitalized and renewed. Prepare to be impressed by their aromatic essences that will transport you to new realms of tranquility and deep relaxation. We want you to experience the full benefits of a luxurious bath time, which is why we have included a refreshing Peppermint lip balm to soothe and soften your lips while you soak.
Each of the six bath bombs is infused with a different aroma to help you create the mood you desire. The Apocalypse helps you find inner strength during challenging times, while Bedtime encourages restful slumber, and Moody Blues help relax your mind and balance your emotions. The Breathe Therapy Bomb comforts you when you're feeling under the weather, and Sunrise renews your spirit with a refreshing burst of citrus. Lastly, the Rosie Therapy Bomb has a warm floral scent that promotes self-love and relaxation.
At Cosset, we believe in doing things right, and we always put your needs at the forefront. With the Bathe With Purpose set, you're assured of a high-quality product, carefully crafted to provide you with the most indulgent bathing experience possible. Trust us to help you turn your bath time into a moment of pure indulgence.
Ingredients: Sodium Chloride (Solar Great Salt Lake Salt), Sodium Bicarbonate, Citric Acid, High Oleic Safflower Oil, Proprietary Essential Oil Blend. May contain Milk Protein or Mood Ring.