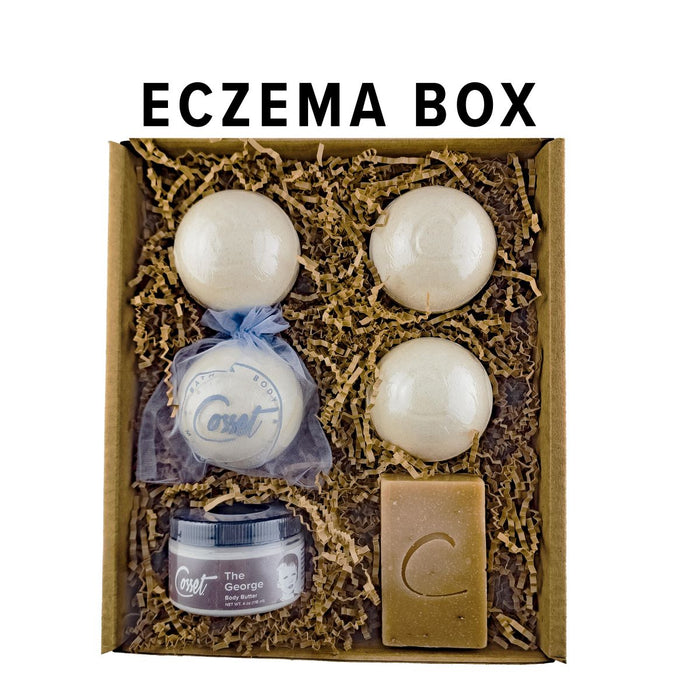 Eczema Box Therapy Bomb Gift Set (Ultimate Skin Nourishment Kit)
Original price
$ 49.00
-
Original price
$ 49.00
Welcome to our Eczema Box Therapy Bomb Gift Set, a thoughtful collection that brings comfort and care to those dealing with dry skin conditions. Inside this curated gift set, you'll find four Cleopatra Therapy Bombs specially formulated to soothe and nourish sensitive skin. Infused with an exquisite blend of essential oils and natural ingredients, these bath bombs are designed to provide a gentle and therapeutic bathing experience, relieving irritation and promoting skin health.
But we didn't stop there. We've included a Cleopatra Palm Free Cold Process soap bar to cleanse and moisturize your skin with pure, natural goodness. This soap is carefully crafted to be gentle on sensitive skin, making it a perfect companion to your bath routine.
And that's not all! To elevate your experience, we've also included "The George" Body Butter. Named after a beloved member of our Cosset family, this body butter is created with love and infused with hydrating ingredients to moisturize and nourish your skin. It's a luxurious treat that leaves your skin feeling pampered and rejuvenated.
With our Eczema Box Therapy Bomb Gift Set, we want to create a sense of relief and ease amidst the challenges of eczema. We understand that self-care goes beyond products – it's an act of self-love and acceptance. So go ahead and indulge in this gift set, knowing that our mission is to make you feel truly cosseted every step of the way.
Ingredients: Cleopatra Therapy Bombs (4): Sodium Chloride (Solar Great Salt Lake Salt), Sodium Bicarbonate, Citric Acid, High Oleic Safflower Oil, Oat Kernel Flour (Avena Sativa), Milk Protein, Honey, Cinnamon Oil (Cinnamomum Zeylanicum Leaf), Eucalyptus Globulus Leaf Oil, Anise Star Oil (Illicium Verum), Fragrance. Cleopatra Cold Process Palm Free Soap Bar: Olive Oil (Olea Europaea), Soybean Oil (Glycine Soja), Coconut Oil (Cocos Nucifera), Canola Oil, Sunflower Seed Oil (Helianthus Annuus), Shea Butter (Butyrospermum Parkii), Sodium Hydroxide, Ground Oatmeal (Avena Sativa), Fragrance. May contain FD&C color. "The George" Body Butter: Cocoa Butter (Theobroma Cacao Seed), Organic Extra Virgin Coconut Oil, Fractionated Coconut Oil (Caprylic/Capric Triglyceride), Shea Butter (Butyrospermum Parkii), Beeswax (Cera Alba), Mango Butter (Mangifera Indica Seed), Zinc Oxide, Kokum Butter (Garcinia Indica Seed), Lanolin Oil