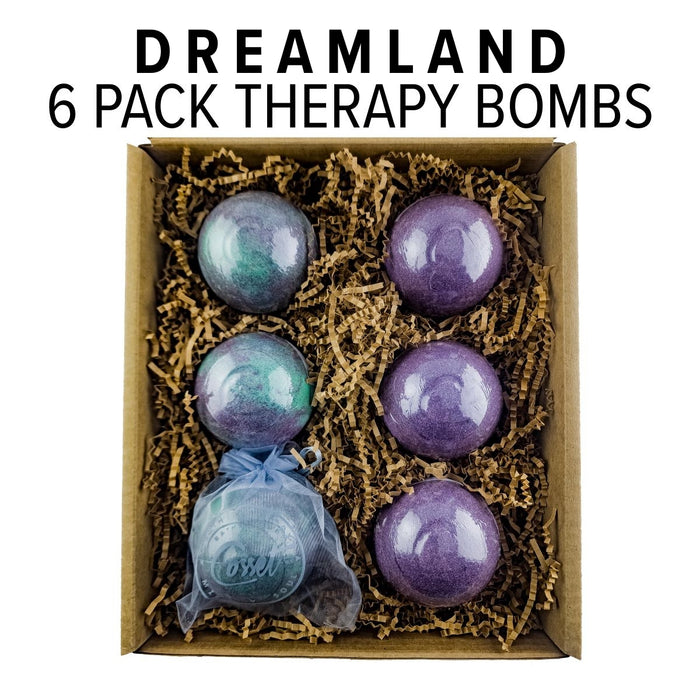 Dreamland Therapy Bomb 6-Pack (Bath Bombs for Amazing Night's Rest)
Original price
$ 42.00
-
Original price
$ 42.00
Dreamland Therapy Bomb 6-Pack:
Inside this pack, you'll discover our two most coveted therapy bombs for rest: Bedtime and Luna. Each therapy bomb has been formulated with a unique blend of essential oils and natural ingredients, carefully chosen for their ability to promote gentle relaxation and encourage a peaceful state of mind. Just drop one into your bath, close your eyes, and feel your troubles melt away as the water transforms into a dreamy oasis of comfort and serenity.
Organza Bath Bag:
To make your experience even more indulgent, we've included an Organza Bath Bag in this pack, which makes it easy to infuse your bathwater with the aromatherapeutic goodness of our therapy bombs. Simply place your chosen bomb inside the bag, and let it work its magic as it delicately releases its benefits.
Directions: Draw a nice warm bath and drop Bedtime into your tub. For the full therapeutic benefit, we recommend you soak for at least 30 minutes, and let the bomb fully dissolve in the bath. Drink plenty of water before and after bathing.
Ingredients: Sodium Chloride (Solar Great Salt Lake Salt), Sodium Bicarbonate, Citric Acid, High Oleic Safflower Oil, Proprietary Essential Oil Blend. (Luna Bath Bombs contain Milk Protein and Valerian Root Powder).