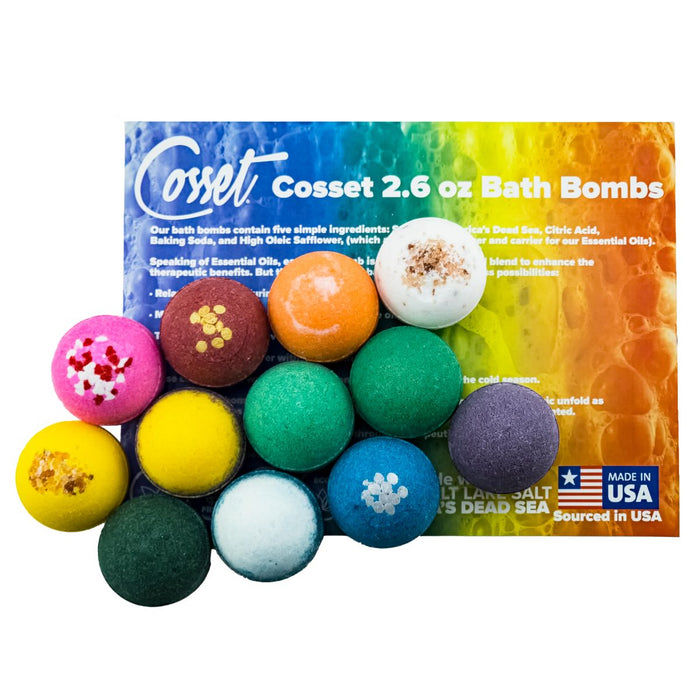 Cosset 2.6oz Bath Bomb 12 Pack
Original price
$ 27.00
-
Original price
$ 27.00
We've gone mad! But don't worry, it's for a good cause. Introducing the playful and therapeutic Cosset 2.6oz Bath Bomb 12-Pack – the perfect collection to turn your bath time into a whimsical and soothing experience.
Now, you might wonder, aren't these the Bath Marbles? We'll let you in on a little secret - we lost our Marbles! But don't worry, we found them again and gave them an extraordinary purpose. We took all the goodness of our Therapy Bomb recipe and miniaturized it into these cute and potent bath bombs to take your bathing experience to the next level (and make a perfect gift😉).
Inside this 12-pack, you'll find a variety of fragrances and hues, each with its own special touch of therapeutic magic. Let Love Me wrap you in a warm embrace, or drift away with the tropical vibes of Hibiscus Passion. And don't forget to unleash the refreshing energy of Breathe as you luxuriate in your bubbling haven.
Join us on this enchanting journey as we "lose our Marbles" in the best possible way. Treat yourself or delight a loved one with this unique collection, because at Cosset, we believe in cherishing life's little moments and finding joy in the simplest of things. So, grab your rubber ducky, hop in the tub, and let the therapeutic fun begin!
This set includes:
Love Me: Infused with a blend of romantic floral notes, immerse yourself in the purest expression of self-love.
Hibiscus Passion: Unlock the secrets of tropical bliss with the vibrant energy of this exotic bath marble, leaving you feeling refreshed and invigorated.
Kalahari Melon: Experience the refreshing burst of juicy melon, bringing a touch of summer to your bath and hydrating your skin.
Toning: Immerse yourself in this bath marble infused with toning properties, leaving your skin feeling revitalized and rejuvenated.
Honeysuckle: Let the sweet fragrance of honeysuckle transport you to a garden in full bloom, creating a peaceful and uplifting atmosphere.
Lilikoi: Surrender to the mesmerizing allure of lilikoi, a tropical fruit that will transport your senses to paradise.
Luna: Unwind and drift into tranquility with the soothing aura of Luna, enveloping your bath in calming hues and a delicate fragrance.
Breathe: Clear your mind and invigorate your senses with the refreshing scent of eucalyptus, promoting a breath of fresh air during your bath.
Apocalypse: Immerse yourself in an otherworldly experience with the mystique of Apocalypse, a bath marble that will fuel your imagination and encourage introspection.
Tahitian Vanilla: Allow the comforting embrace of rich vanilla to transport you to a world of pure relaxation and indulgence.
Oasis: Immerse yourself in the oasis of calm and serenity, as the delicate scents of delicate florals whisk you away to a tranquil state of mind.
Lavender: Experience the soothing properties of lavender as your bath transforms into a sanctuary of tranquility and relaxation.
Ingredients: Sodium Chloride (Solar Great Salt Lake Salt), Sodium Bicarbonate, Citric Acid, High Oleic Safflower Oil, Proprietary Essential Oil Blend. May contain SLSA (bubbles), FD&C Color.