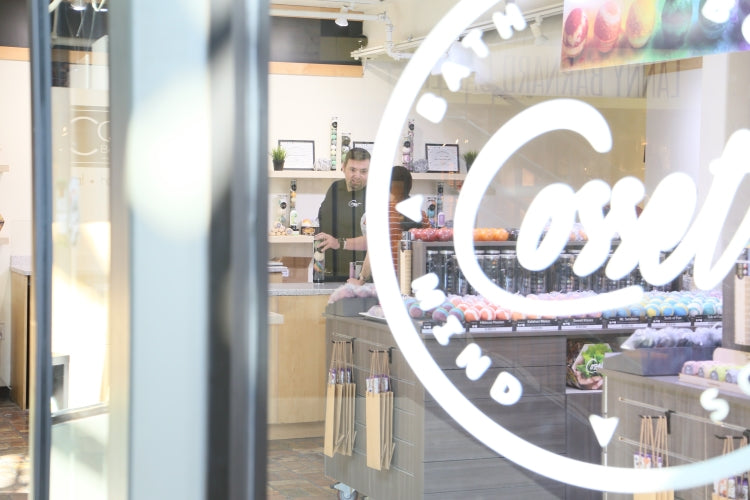 Celebrate 5 Years of Cosset with Us
Five years ago, Cosset opened its doors. Since then, it has been nothing but excitement for our entire team. From developing new product lines to expanding to over 200 grocery stores throughout the country, we have loved every minute of it. Join us in our fifth anniversary as we look back at our entire Cosset history, including our tales of hard work, struggles, team efforts, and major triumphs. 
But that isn't all we have in store for this celebration. Join in on all the fun, by enjoying our five-year anniversary deal. For four days only we are offering exclusive deals on our classic Cosset products. All bath bombs are $5. Bomb tubes are $20. Bath marbles are $2, and marble tubes are $20. You will also receive $5 off all-tube refills when you bring your tube into the store. 
Before you run off to your closest Cosset location, let's reflect on what got us here today. 
Our History 
Twelve years ago, in 2007, owner, Dave Danzig went on a cruise to Alaska with his wife, Ashleigh. During their stay, they were first introduced to luxury bathing products. Not only did the introduction pique Dave's interest but started him on a different path. When Dave wasn't working his typical 9-5, he was concocting products hoping to create an easy-to-apply natural sunscreen. 
When his son, George, developed a bad case of eczema, Dave got to work. He eventually created "The George," a body moisturizer that helped clear his eczema and is now one of the top-selling products at Cosset. This entire experience motivated Dave to make his after-work hobby into a full-fledged business. 
"I decided to stop working for other people. I was done. I pulled out my retirement and decided to try out the local business market," said Dave. "Everything I had done up to that point prepared me to start Cosset." 
Cosset's Beginning 
That's when Dave pulled together his products, prior business knowledge, and resources and took them to the locals. The first day anything sold was on May 31, 2014. Dave sent flyers out in his neighborhood and had a good response. That was only a few days before the local farmers market came into play. Actually, in Cosset's first application to the Salt Lake Downtown Farmers Market, Dave had to photoshop a tent set-up to get approved. Luckily, accepted they were. 
Not only was it this type of innovation that got Cosset started, but it was Dave's eternal optimism. In fact, after the first three farmers markets, Dave knew that they needed a store. That is when Trolley Square came in. 
Trolley Square
On September 12, 2014, five years ago, Cosset opened its doors to its first storefront. The Trolley Square store was a huge undertaking. It took a significant amount of work and long hours from everyone on the team. At the time, there was only David, Ashleigh and one other employee. Eventually, we hired Adrianna, our second employee who is still with us five years later. 
"Trolley Square was the best experience we could have hoped for because it was a low barrier to entry and had inconsistent volume," said Dave. 
While most business owners would see inconsistency as a bad thing, Dave used it as his motivator. 
"We didn't have enough success to feel complacent. It was just enough to push us to do more," said Dave. "If we would have had a high consistent volume, we wouldn't have that fire in our bellies to open store number two." 
Expansion 
Just a year after the Trolley Square store opened, Cosset opened its second location in Layton on October 15, 2015.  The entire Layton project was a product of sweat, hard work, long days and nights from everyone on the team because they built it out with their own hands. 
"It felt impossible to open up the Layton store. I had gone through it all before at Trolley Square. I would go tell myself, I am never going to feel ready, it will always seem impossible, but I need to roll up the gate, open the doors, and everything will work out," said Dave. 
Even as Cosset grows, Dave still puts as much love and attention into every development, whether it is opening up a new store, expanding into another grocery store, or creating new products. His efforts and the work of the entire Cosset team is paying off. 
From winning the SBDC Client of the Year Award in 2015 to getting recognized by the National Grocers Association and to getting listed on the Inc. 500 earlier this year, what matters to Dave hits a little closer to home. 
"What fuels me is seeing how warm and inviting our team is. From the beginning, I wanted to create something genuine. I never wanted to be a part of creating something judgmental or hypocritical we focused on being inclusive. Now, anyone can walk into one of our stores or join our team and come as they are and feel accepted," said Dave. 
Fortunately for all of us, Dave's instincts and the entire team's work has gotten us to where we are today. It has been five years, and we don't plan on stopping any time soon. Join us as we celebrate by visiting a store or shopping online and enjoying significant deals on some of our best products. Not that any of us need an excuse to treat ourselves, but, here is one anyway.