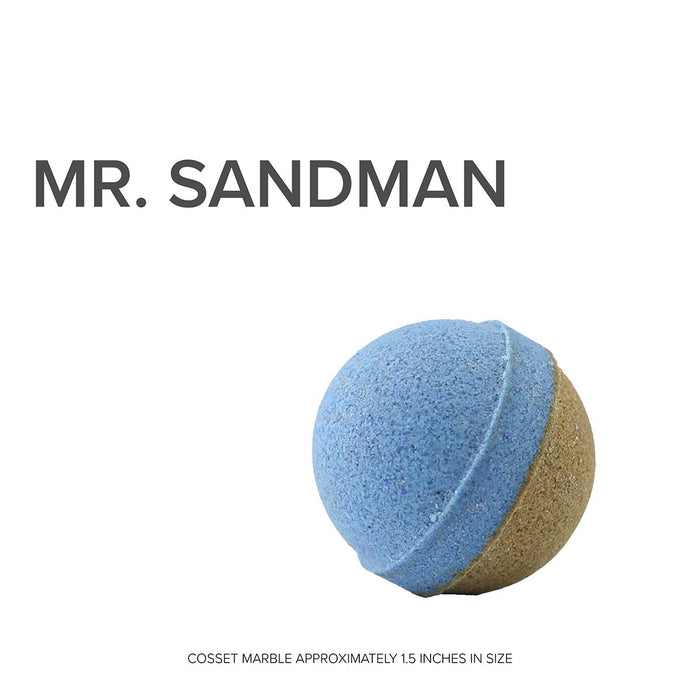 Mr. Sandman Bath Marble
Original price
$ 2.80
-
Original price
$ 2.80
According to legend, when children had trouble sleeping, Mr. Sandman sprinkled magical dust in their young eyes to help keep them closed and then whisked them away to a glorious dream land.  Taking a page from his book, we've concocted our own "magical dust" by combining the grounding and restorative properties of Sandalwood and Patchouli essential oils with the soothing effects of Guaiacwood to make this Aromatherapy Marble a truly dreamy experience.  Marbles are perfect to use anywhere you want a great smell, in the shower, or a hot bath.
Key Benefits: Focus / Uplifting / Sleep Aid
Ingredients: Sodium Chloride (Solar Great Salt Lake Salt), Sodium Bicarbonate, Citric Acid, Pure Cane Sugar, High Oleic Safflower Oil, Patchouli Oil (Pogostemon Cablin), Sandalwood Oil (Santalum Album Oil), Guaiacwood Oil (Bulnesia Sarmienti), Jasmine Absolute Oil (Jasminum Officinale), Fragrance, Sodium Lauryl Sulfoacetate (Coconut derived), FD&C Colors.