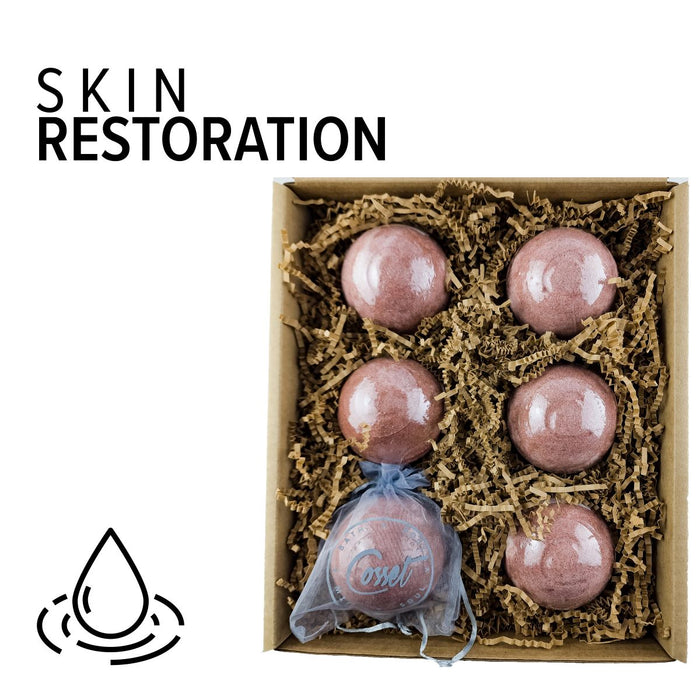 Rosie Therapy Bomb 6-Pack (Skin Restoration Milk Bath Bombs)
Original price
$ 42.00
-
Original price
$ 42.00
Let us take you on a journey where you see life through rose-colored glasses, finding moments of pure bliss and self-care with our Rosie Therapy Bomb® 6-Pack. Immerse yourself in the gentle caress of a milk bath, as the milk protein works its magic to leave your skin soft, supple, and deeply moisturized. Experience the intoxicating scent that envelops your senses, transporting you to a state of serenity and calmness. The energizing touch of Lemon essential oil uplifts your mind, revitalizing your spirit and infusing your bath time ritual with a sense of rejuvenation. But there's more to discover - within Rosie's mesmerizing blend lies the power of Rose Kaolin clay, a natural wonder that restores and revitalizes your skin, unveiling a youthful radiance. This 6-Pack bundle, accompanied by our elegant Organza Bath Bag, is a perfect invitation to create a sacred space of relaxation and nourishment for your mind, body, and soul.
Key Benefits: Skin Restoration / Anti-inflammatory / Soothing / Stimulating
Ingredients: Sodium Chloride (Solar Great Salt Lake Salt), Sodium Bicarbonate, Citric Acid, High Oleic Safflower Oil, Milk Protein, Lemon Oil (Citrus Medica Limonum), Sweet Orange Oil (Citrus Sinensis Peel), Rose Kaolin Clay, Fragrance, FD&C Colors.
Directions: Draw a nice warm bath and drop Rosie into your tub. For the full therapeutic benefit, we recommend you soak for at least 30 minutes, and let the bomb fully dissolve in the bath. Drink plenty of water before and after bathing.
*May not be suitable for expectant mothers. Please consult with your physician before using this product.