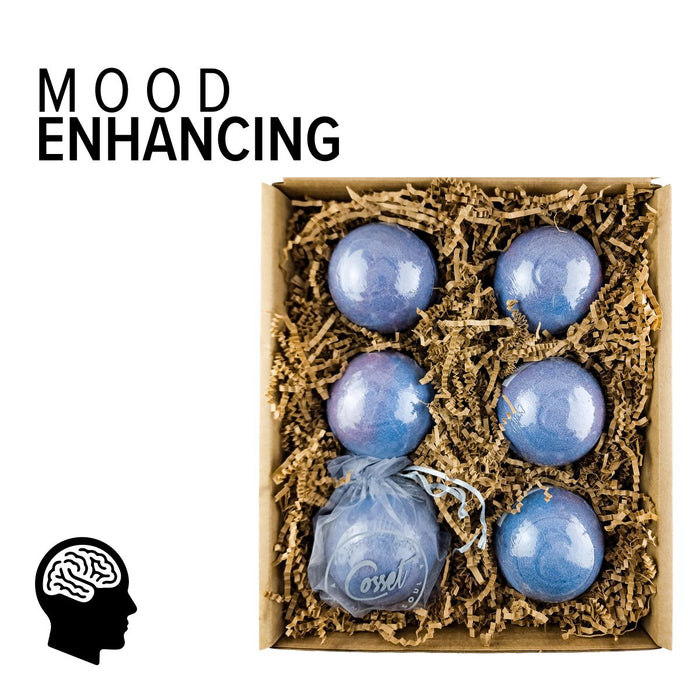 Moody Blues Therapy Bomb 6-Pack (Mood Ring Milk Bath Bombs)
Original price
$ 42.00
-
Original price
$ 42.00
Are you ready to brighten your mood and wash away "the blues"? Introducing our Moody Blues Therapy Bomb® 6-Pack – a true self-love treat that will leave you feeling uplifted and rejuvenated. This special bath bomb 6-Pack, bundled with our elegant Organza Bath Bag, is designed to take your bathing experience to new heights of bliss. Dive into a world of skin nourishment with the powerful effects of Milk Protein, known for its ability to leave your skin feeling soft and supple. Pine oil, with its restorative properties, works its magic to rejuvenate and revitalize your skin, giving it a radiant glow. But that's not all – we've topped it off with the energizing fragrance of Grapefruit to awaken your senses and bring a burst of freshness to your day. As you delight in the enchanting fizz, a fun surprise awaits you. Discover a mood ring, a charming companion to help you keep tabs on how you feel after your bath time ritual. Indulge in this luxurious 6-Pack and let the Moody Blues Therapy Bomb® whisk you away to a world of tranquility and joy.
Key Benefits: Mood Enhancer / Softening / Anti-inflammatory
Ingredients: Sodium Chloride (Solar Great Salt Lake Salt), Sodium Bicarbonate, Citric Acid, High Oleic Safflower Oil, Milk Protein, Grapefruit Oil (Citrus Grandis Peel), Pine Oil (Pinus Palustris Oil), Fragrance, FD&C Colors.
CONTAINS: Mood Ring (Recommended for children 3 years of age or older).
Directions: Draw a nice warm bath and drop Moody Blues into your tub. To make sure you get the Mood Ring, put the bath bomb in our Organza Bath Bag. For the full therapeutic benefit, we recommend you soak for at least 30 minutes, and let the bomb fully dissolve in the bath. Drink plenty of water before and after bathing.
*May not be suitable for expectant mothers. Please consult with your physician before using this product.