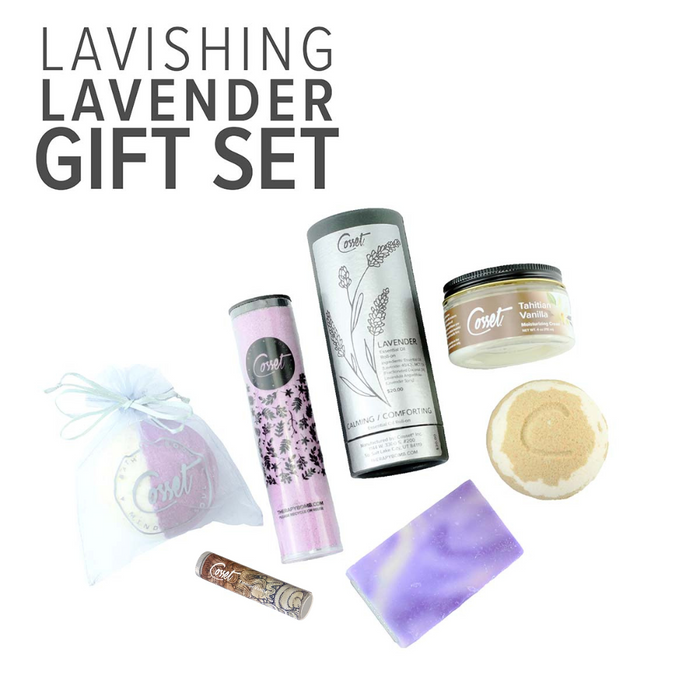 Lavishing Lavender (Gift Set)
Original price
$ 70.00
-
Original price
$ 70.00
LAVISHING LAVENDER is a gift with a collection of Lavender and Vanilla products; perfect for pampering. This is a chance to lavish a special person with a beautiful purple enhanced gift of therapy. In this box you have a unique assortment of our Therapy Bombs. In addition to that, we add 40 drops of essential oils with a little bit of love.   
Gift Set Contains:
BEDTIME therapy bomb: Chamomile & Lavender / Calming / Sleep-aid
TAHITIAN VANILLA bubble bomb: Orange & Sensual Vanilla / Calming / Uplifting / Stimulating
LAVENDER cold process palm free soap: The best lavender we have come across. No frills, straight lavender floral goodness.
LAVENDER Essential Oil Roll-on: Features a clear glass container with a sprig of lavender for a beautiful presentation and a wonderful blend of premium essential oil mixed with perfumers alcohol to make it safe for human skin contact. The matte black display case will look great on your nightstand or dresser and the pleasant Lavender aroma will help you relax any time of the day. (Substitute for Lavender Ball Soap)
TAHITIAN VANILLA moisturizing cream: A deep moisturizer for areas prone to roughness and cracking. Fresh Goat Milk restores your skin's healthy balance and allows for easy absorption of nourishing plant and seed extracts. Apply liberally all over body as needed.
LAVENDER bath magic: A sulfate-free bubble bath that is coconut derived. Sprinkle half of the tube under running water as you draw your bath. It will magically expand and foam. The more you add, the more bubbles!
TAHITIAN VANILLA lip moisturizer: An all-natural lip balm containing Coco butter, Shea butter and 5 natural oils to moisturize; and Aloe Vera to heal your lips. Does not contain harmful chemicals, sugar or sulphates.
BATH BAG: Use this to contain botanicals OR drop in a bubble bomb and tie it on the faucet for MAXIMUM BUBBLES! Plus, they're reusable; turn inside out, rinse and dry for next use.
Therapy Bomb directions: Fill the tub with warm or hot water. Drop-in a Therapy Bomb and watch it dissolve. It will sink because it is made with Salt from the Great Salt Lake. For full therapeutic benefit, soak for at least 20 min and drink a lot of water.
*Product variants subject to change if inventory is out of listed Product.