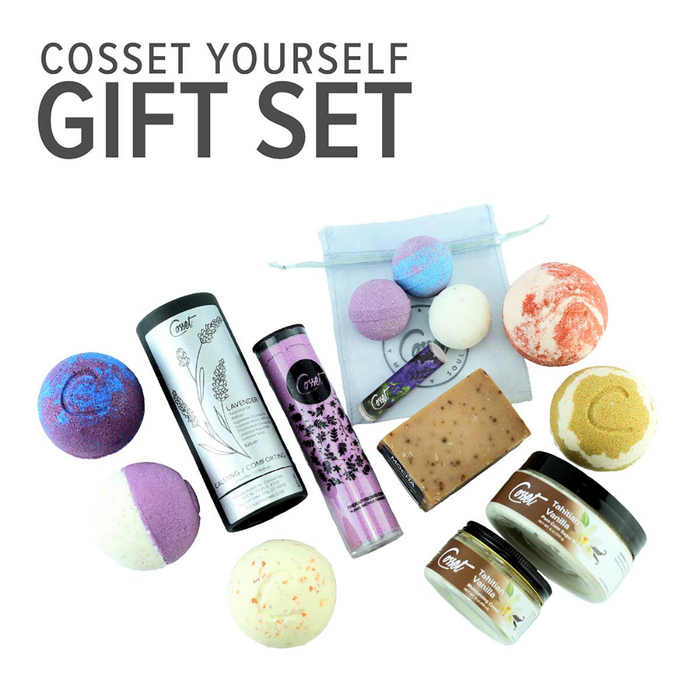 Cosset Yourself (Gift Set)
Original price
$ 95.00
-
Original price
$ 95.00
The Cosset Yourself gift set is a direct reflection of the definition of Cosset: To care for and protect in an overindulgent way. Cosset's purpose is to help relieve life's stress through therapeutic experiences. This grand therapeutic gift is a way that you can Cosset someone special and say, "Thanks", "I love you", or "You deserve the very best!" This is a collection of some of Cosset's best sellers.
Gift Set Contains:
BEDTIME therapy bomb: Chamomile & Lavender / Calming / Sleep-aid
ROSIE therapy milk bomb: Rose Kaolin Clay & Lemon / Skin Restoration / Anti-inflammatory / Soothing / Stimulating
TAHITIAN VANILLA bubble bomb: Orange & Sensual Vanilla / Calming / Uplifting / Stimulating
MOODY BLUES milk bomb: Grapefruit / Mood Enhancer / Softening / Antioxidant / Mood Ring Inside
TONING botanical therapy bomb: Pink Himalayan Salt, Lavender, Lemongrass & Grapefruit / Anti-inflammatory / Increase Circulation / Calming
CLEOPATRA Palm Free Artisan Soap: Ground Oatmeal is found throughout the bar to help exfoliate the skin while milk nourishes and the honey fragrance coats you in epic deliciousness.
LAVENDER Essential Oil Roll-on: Features a clear glass container with a sprig of lavender for a beautiful presentation and a wonderful blend of premium essential oil mixed with perfumers alcohol to make it safe for human skin contact. The matte black display case will look great on your nightstand or dresser and the pleasant Lavender aroma will help you relax any time of the day. (Substitute for Lavender Ball Soap)
LAVENDER, TONING & MOODY BLUES therapy marbles: Lavender is for calming & comforting. Toning is good for increasing mood & circulation. Moody blues is also a mood enhancer. Marbles are multipurpose for foot baths, showers (hang in bath bag on faucet), or home aroma.
TAHITIAN VANILLA sugar scrub: An intensive moisturizer for areas prone to roughness and cracking. Full of butters and oils restores your skin's healthy balance and allows for easy absorption of nourishing ingredients.
TAHITIAN VANILLA moisturizing cream: A deep body moisturizer for areas prone to roughness and cracking. Fresh Goat Milk restores your skin's healthy balance and allows for easy absorption of nourishing plant and seed extracts. Apply liberally all over body as needed.
LAVENDER bath magic: Lavender essential oil, sulfate-free bubbles bath that is coconut derived. Sprinkle 1/2 of the tube under running water as you draw your bath. It will magically expand and foam. The more you add, the more bubbles!
LUNA lip moisturizer: An all-natural lip balm containing Coco butter, Shea butter and 5 natural oils to moisturize; and Aloe Vera to heal your lips. Does not contain harmful chemicals, sugar or sulfates.
BATH BAG: Use this to contain botanicals or Moody's mood ring OR drop in a bubble bomb and tie it on the faucet for MAXIMUM BUBBLES! Plus, they're reusable; turn inside out, rinse and dry for next use.
Therapy Bomb directions: Fill the tub with warm or hot water. Drop-in a Therapy Bomb and watch it dissolve. It will sink because it is made with Salt from the Great Salt Lake. For full therapeutic benefit, soak for at least 20 min and drink a lot of water.
*Product variants subject to change if inventory is out of listed Product.