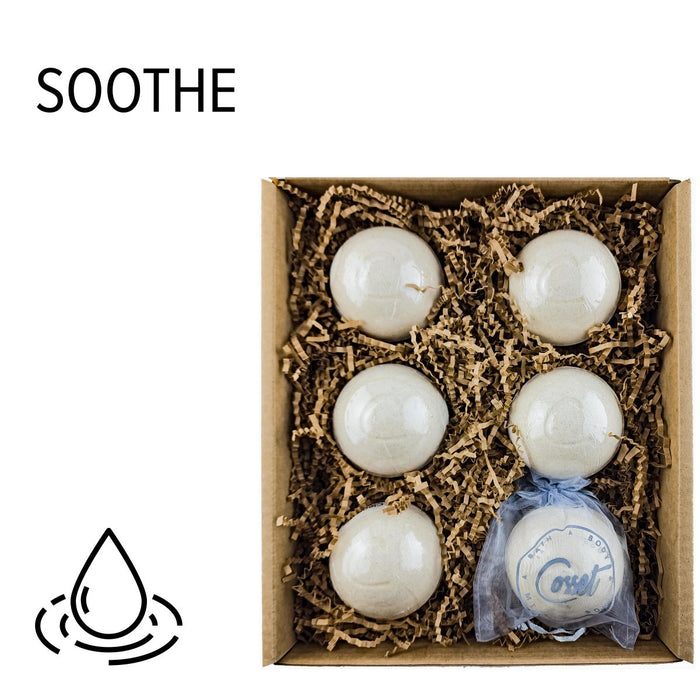 Cleopatra Therapy Bomb 6-Pack (Soothing Oatmeal, Milk & Honey Bath Bombs)
Original price
$ 42.00
-
Original price
$ 42.00
Indulge in a regal bathing experience fit for a queen with our Cleopatra Therapy Bomb® 6-Pack. This extraordinary blend of milk, honey, and oat will lavish your skin with luxurious softness and restore its natural radiance. As you immerse yourself in the opulent aroma of Cinnamon, Anise, and Eucalyptus Essential Oils, you'll feel the burdens of the day dissolve, leaving you feeling like true Egyptian royalty. On top of these six indulgent bath bombs, we include our exquisite, reusable Organza Bath Bag to contain the oat powder, enhance your bathing ritual even further, and help transport you to a realm of pure bliss. Embrace the essence of Cleopatra's bathing rituals and pamper yourself like never before, transform your bathroom into a sanctuary of opulence, escape the everyday and embark on a journey to rejuvenation and self-care.
Key Benefits: Softening / Skin Restoration / Detoxifier / Mood Enhancer
Ingredients: Sodium Chloride (Solar Great Salt Lake Salt), Sodium Bicarbonate, Citric Acid, High Oleic Safflower Oil, Oat Kernel Flour (Avena Sativa), Milk Protein, Honey, Cinnamomum Cassia Leaf Oil, Eucalyptus Globulus Leaf Oil, Anise Star Oil (Illicium Verum), Fragrance.
Directions: Draw a nice warm bath, put one Cleopatra into the Organza Bath Bag, and drop it in your tub. For the full therapeutic benefit, we recommend you soak for at least 30 minutes, and let the bomb fully dissolve in the bath. When you're done, turn the bath bag inside out to clean, dry, and reuse! Drink plenty of water before and after bathing.