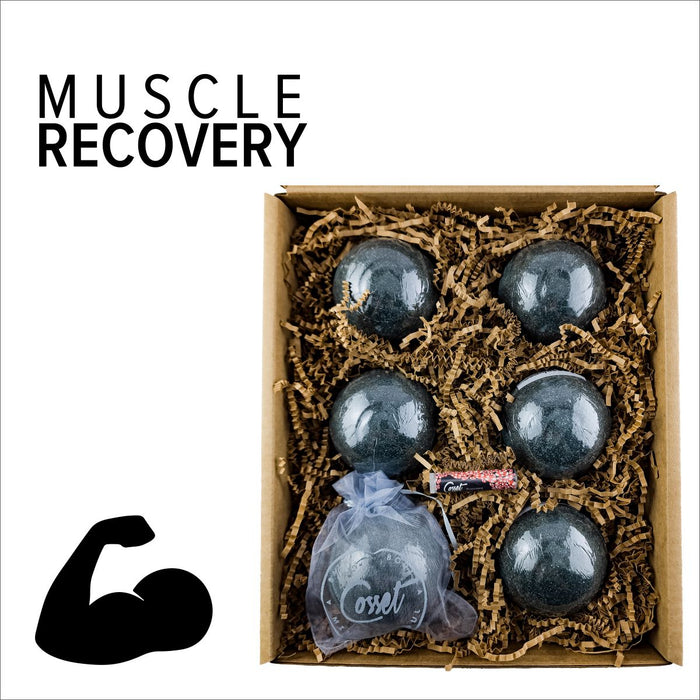 Apocalypse Therapy Bomb 6-Pack (Muscle Recovery Bath Bombs)
Original price
$ 42.00
-
Original price
$ 42.00
Behold, the Apocalypse Therapy Bomb 6-Pack - your new stress-relief best friend! At Cosset, we believe in taking care of our own, so we've curated the ultimate bath time experience just for you. Packed with powerful ingredients like detoxifying Solar Great Salt Lake Salt and invigorating Rosemary, Cornmint, and Siberian Fir Needle oils, this fizzing, swirling bomb is the stuff of dreams. Let the colors and scents envelope you in complete, peaceful darkness, breathing deep and clear while your body repairs itself - just drop it into the water and surrender to pure bliss. This set includes an Organza Bath Bag to enhance the therapeutic bathing experience and a Peppermint Lip Balm for pre- and post-soak enjoyment. At its heart, Cosset is all about providing you with relief from life's stresses and helping you feel truly cosseted. So why not indulge in our Apocalypse Therapy Bombs and let us take care of you in the way you deserve?
*The midnight black color washes out of the tub easily, but we do not recommend holding the bomb as it dissolves since this can sometimes cause the dyes to stain your hands.
Key Benefits: Muscle Recovery / Increase Circulation / Detoxifier / Calming

Ingredients: Sodium Chloride (Solar Great Salt Lake Salt), Sodium Bicarbonate, Citric Acid, High Oleic Safflower Oil, Rosemary Oil (Rosmarinus Officinalis Leaf), Cornmint Oil (Mentha Arvensis), Siberian Fir Needle Oil (Abies Sibirica), Fragrance, FD&C Colors.
Directions: Draw a nice warm bath and drop Apocalypse into your tub. We recommend running your bath a few degrees warmer as the Cornmint oil may cause your water to cool down faster. For the full therapeutic benefit, let the bomb fully dissolve in the bath and soak for at least 30 minutes. Drink plenty of water before and after bathing.